About the podcast
The Cutting Edge Podcast: A podcast in search of new crops for Wisconsin. Join UW-Madison Division of Extension as they search for new crops for Wisconsin growers, processors, and consumers.  The strength of Wisconsin's agricultural economy is its diversity…something that doesn't just happen by chance.  It is a product of the relentless drive of researchers and farmers to innovate, explore, and experiment.  Join us for a glimpse into the exciting new research and development bringing new crops and diversity to Wisconsin.
Subscribe at: Google Podcast Apple iTunes
"If you're not living on the edge,
you're taking up too much space"

                                              – George Koepp
Emerging Crops Webinars
Agricultural diversification is a hot topic right now. Oversupply issues with the main commodities, ever-rising input costs, and depressed or volatile prices have growers looking for other cropping options.  Extension is offering a summer webinar series to provide growers with the latest information on emerging new crops for Wisconsin.  Each session will focus on an emerging crop with time for questions.
Meet The Cutting Edge Team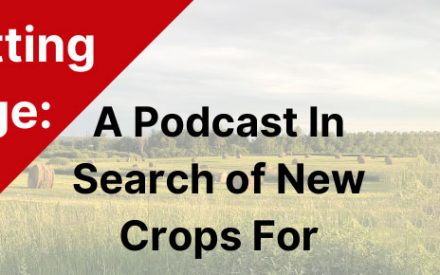 The Cutting Edge Podcast Episode 24: Elderberry
Join Mike Breckel an elderberry farmer from Vernon County and Dr. David Handley, Fruit Crop Specialist  from the University of Maine Cooperative Extension as they discuss production and marketing potential of elderberry.